Skip to Content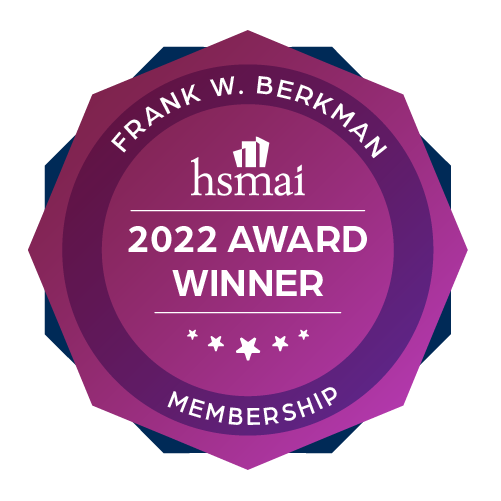 HSMAI South Florida Scholarships
Advancing Your Education Together
Because we believe today's students are tomorrow's trailblazers and innovators, our chapter awards scholarships to select individuals across South Florida throughout the year, including those seeking bachelor's, master's, and doctoral degrees. Below, you'll find our current scholarships, as well as application details, requirements, and more.
Scholarship Recipient Testimonials
Kirby Lynn Gilmore
"The prestigious Dr. Peter Ricci Scholarship empowered me to complete my BA in Hospitality Management and inspired me to complete my MBA in Operations Management. Through my experience in Residence Life, I discovered the parallel between university living and the hotel industry. I have honed valuable skills in team-building, conflict-resolution, and operations that are applicable to any business."
Juan Tamayo
"Since receiving this scholarship, I've taught hospitality classes at FIU, opened the Hard Rock Hotel in Hollywood with their Food and Beverage team. I've traveled the world with Celebrity Cruises as a Learning & Development Consultant. During Covid-19, I helped repatriate thousands of team members across the globe and bring three ships back to service. Most recently, I have been working with 1 Hotels as their Learning and Development Manager. There, I coach executive leadership on culture, service excellence, and team building.

My education was graciously impacted by the Peter Ricci Hospitality Scholarship. I was able to put that money towards my Master's degree at Florida International University where I graduated as one of the World Ahead Graduates."
Sabrina Schmid
"After being rewarded with this scholarship, my network within the local hospitality industry grew significantly. Industry leaders reached out to me willing to offer me a position within their organization and made valuable recommendations. The experience was so humbling, I felt like the local hospitality community fully adopted me from the moment I set foot into this industry. I am continuously involved with HSMAI South Florida as I am eager to give back to an industry that is giving me so much. Being a world-traveler myself, it excites me every day to live and work in this exciting industry."
Isabella Rolleri
"
Since receiving the scholarship, I have had quite a bit of things happen. I finally graduated with my bachelor's degree with a concentration in Hospitality and Event Management. I have started my MBA courses over the summer (3 days after I walked the stage) and have tackled some of my hardest courses to date. I am getting ready to start planning out my final year at Lynn University, especially as the Hospitality Club President, which I will miss dearly. I hit my one-year anniversary at the Eau Palm Beach Resort and Spa and have since left then and started a new journey at Kolter Hospitality as a HR Coordinator and Administrative Assistant.

As I step back to reflect and write this, it amazes me how much can change in less than a year and that change is good and not always scary."
DR. PETER RICCI SCHOLARSHIP
DESCRIPTION
Each fall the South Florida Chapter of the Hospitality Sales and Marketing Association International (HSMAI) will offer scholarships to college/university students across South Florida dependent upon budget.
For the fall 2023, the Chapter would like to offer up to $1500 per student in scholarships. In order to be eligible, students must have applications completed online and must submit any/all required supplemental items.
ELIGIBILITY
Eligibility requires applicants to be current undergraduate (bachelor's) or graduate (master's or doctorate) students enrolled in a college or university in South Florida. The degrees must be in hospitality management, tourism, or highly related.
Further, students must intend to have a career path in the niche areas of hospitality sales, marketing, digital marketing, revenue optimization, marketing analytics, or similar.
The students must be enrolled full time at the time of application and must be enrolled full time at least one semester beyond the award date. Seniors graduating in fall 2023 are not eligible.
Full-time status is determined by the unique institution and level of degree being pursued.
APPLICATION REQUIREMENTS & PROCESS
Students must complete the online application in its entirety. Students must submit all required supplemental items.
Supplemental items include:
• Current Resume with correct email address and phone number
• Official or unofficial transcript uploaded in a .pdf or Microsoft Word format
• Brief statement of career intent in .pdf or Microsoft Word format
All items must be submitted by the application deadline. For the fall, 2023 award cycle, this deadline is Friday, October 27, 2023 at 11:59 pm (EST).
Additionally, in order to be eligible, students must be able to attend the annual HSMAI South Florida Gala event IN PERSON.
For fall, 2023 the GALA will be held during the first two weeks of November. An exact date will be announced soon.
An individual member of the HSMAI South Florida Board will reach out to prospective recipients to schedule either a phone call or a virtual conversation if your application has been selected as a finalist.
If you have any questions about the process or have any technical difficulties submitting the required documentation, please reach out to Chapter Executive Director, Ms. Diane Benjamin, at hsmaisouthflorida@gmail.com.